Bra Fitting Guide for Reconstructed Breasts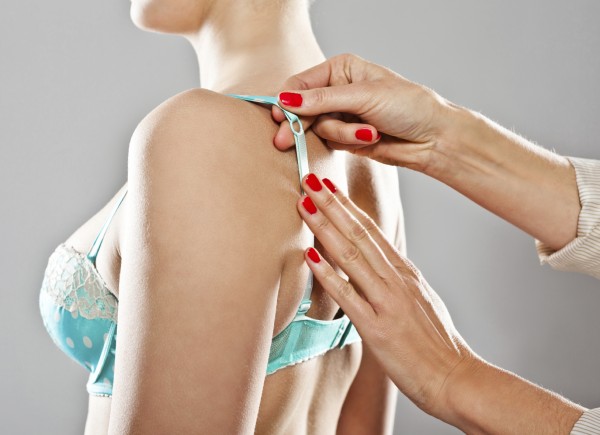 Following breast reconstruction, finding a bra that fits and flatters your breasts is not only important for comfort and support—for many women, choosing beautiful new lingerie makes them feel feminine again and provides a sense of completion. With Breast Cancer Awareness Month upon us, we wanted to offer up some suggestions for finding bras that will support your new shape.
Why You'll Need New Bras
Because the shape and size of reconstructed breasts differ from natural breast tissue, it's  important to clean out your lingerie drawer and replace bras that no longer fit. Keep in mind that your new breasts will not fit into a bra in the same way your original breasts did, and the bra size and styles you were accustomed to prior to surgery may not work for you.
It's important to find the right fit for your new shape, as wearing a bra that doesn't support you properly can cause neck and back pain. Additionally, the wrong band size can constrict you through the underbust and cause discomfort or skin irritation. Along with the potential for soreness, an ill-fitting bra won't flatter your silhouette—while the right bra will enhance your assets and give the appearance of a slimmer midsection.
Being Measured
Because choosing the wrong bra size is such a common problem, we suggest going to a high-end department store or boutique to be measured. Even if you choose to buy your bras elsewhere, knowing your true measurements will be invaluable. Keep in mind that each brand of bra will fit differently to some degree; if you are a 36C in one brand, don't assume this is your correct size universally.
During a bra fitting, your underbust and the apex of your breast will be measured. Your underbust is sized to find your band measurement and the widest part of your breast is measured to determine your cup size. It's important to remember that cup size is used to describe the projection of the breast from your chest and band size is used to describe the diameter of your underbust.
For instance, if you are wearing a size 36C bra and the band feels too tight, you might assume that you can move to a 38C. Unfortunately, this is not always the case. While both are a C cup, the 38C will have a wider cup to accommodate a wider base of the breast. The cup for each has the same projection, but not the same width. To move to a 38C, the cup size may end up being too large for your breasts. In this example, we would recommend trying a 38B. As you move up in band width, you will need to move down in cup size in order to maintain the same fit in the cup.
Finding a Bra That Fits
When bra shopping, you will definitely want to "try before you buy." Get recommendations from a knowledgeable salesperson and try a variety of styles to find the right amount of coverage and support.
Here are some helpful things to look for when bra shopping:
Proper cup fit. If you have chosen the right cup size, your breast tissue should fill out the cup entirely without any gaping between the cup and the breast. Alternatively, there should be no spillage of breast tissue at the top, sides, or bottom of the cup.
Appropriate band size. When you've found the correct band size for you, the bra should sit comfortably around your underbust. The bra should be snug, but not so tight that it pinches or rides up your back. It should sit horizontally and there should be no space between the band and your body. When trying on a bra, slip the straps off of your shoulders—if the bra stays in place with minimal slipping and offers support, you've found the correct band size.
A flat center panel. The triangular panel of a bra that sits between the breasts should lay flat against your sternum. If there is space between the center panel and your body, this means the cup of the bra is not deep enough for your breast tissue and you need a larger cup.
The right strap. Your bra straps should not be doing all of the work when it comes to support, but should work in conjunction with the band and cups to fit your needs. For larger breasted women, a wide comfortable strap can help balance the weight of your breasts. The straps of your bra should only provide 10-20% of the support, with your bra band bearing the rest of the weight.
Proper arrangement of breast tissue. When trying on a bra, it is also important to arrange your breasts into the cups. To do so, bend forward and arrange your breasts into the cups, positioning your nipples into the center of the bra. Implants may have less movement than natural breasts, but will still need to be positioned into your bra for the right fit. Finally, as you stand up, smooth the top of your breast tissue if there is any minor spillage.
Once you find a brand of bra that fits you well, we recommend buying several styles to create a bra wardrobe that fits your needs.
You are Unique
Every woman is different and it's important to understand your needs. Finding a bra in the right size, shape and feel is indispensable when it comes to reclaiming your confidence and learning to love your new breasts. You are unique and you should feel good in the skin you're in!
If you've been diagnosed with breast cancer or have undergone mastectomy and are looking into breast reconstruction, we can help. Feel free to contact us with questions or to request a personal consultation.