Breast Implant Options in Reading PA
All the options you need for the look you want
One of the most important (and fun!) decisions you will make before breast augmentation is which breast implants you will get.
Choose from Silicone Gel or Saline Implants
You have a variety of implant choices to help you get what you want out of breast augmentation. Depending on your goals and body shape, any of these implants can look very natural and create a beautiful new breast profile.
What was once an impossible dream has become a reality, and it's all because of you. My breasts are absolutely everything I ever dreamed possible.
Visit our Patient
Before & After Gallery
Model
Silicone Gel Implants
Silicone gel implants feel remarkably similar to natural breast tissue. We use Allergan's Natrelle® breast implants because of their excellent reputation for safety, quality, and patient satisfaction. These are round implants, available in a variety of sizes and profiles. Advantages of silicone gel implants include:
They can look and feel very natural
They have less chance of visible rippling, particularly in thinner patients
They are designed to move within the breast pocket without affecting breast shape
Because silicone gel implants come pre-filled to a specified amount, the incision required will be a little larger than that required for saline. Their round shape tends to create a fuller upper pole to the breast as well, making these an excellent option for a youthful but natural-looking and feeling breast. While silicone gel implants do cost more than saline, many patients feel the very natural characteristics of silicone gel are worth the extra cost.
Berks Plastic Surgery is Pleased to Offer the Complete Natrelle® Cohesive Collection
Featuring highly cohesive, soft touch, and responsive gel implants, the Natrelle collection offers over 700 breast implant options to help you achieve beautiful, natural-looking results.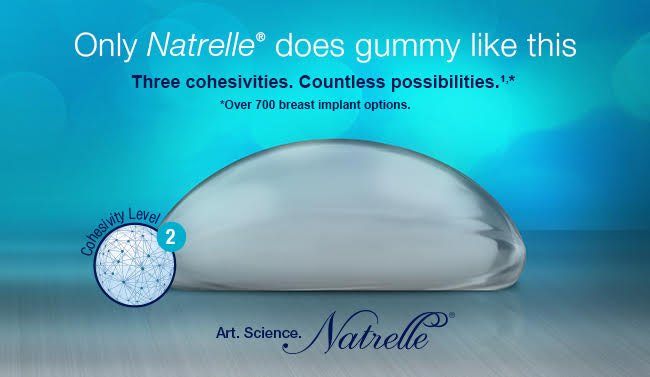 New! Natrelle INSPIRA® Soft Touch Implants
Allergan's Natrelle INSPIRA implants offer a smooth, round silicone gel implant option. With a higher fill ratio than other available implant styles, INSPIRA smooth round implants provide additional breast shaping options and reduced risk of rippling and implant visibility. INSPIRA implants are full projection and come in either responsive gel or Soft Touch™ gel, depending on the desired results of the patient.
The newest gummy bear implant from Natrelle, the INSPIRA Soft Touch is a medium firmness gel implant that offers patients a natural look. Helping to better meet the needs of each and every patient's unique goals, Soft Touch provides an additional option for breast augmentation, revision, and reconstruction patients.
Saline Implants
Saline implants are made from a strong silicone rubber outer shell that is filled to a specified amount to achieve your desired breast size increase. Saline implants offer many advantages:
Because they are filled after being placed, they require smaller incisions than silicone
They can be adjusted to a very precise volume to achieve excellent breast symmetry
Saline implants are less expensive, but just as safe as silicone
Saline implants do have a firmer feel than silicone as well as an increased chance of visible rippling, particularly in patients with thinner skin. Because of these qualities, we usually find that saline works best for patients with more existing breast tissue to cover the implant.
Get started with your consultation & breast implant sizing session
We offer free, thorough breast augmentation consultations, which include an in-depth breast implant sizing session. At your appointment, you will get to see and feel all of the implant types we offer, and try on sizers to help you compare looks. Contact us today to get started.