Berks Plastic Surgery in the Media
Newsweek Names Dr. Brian Reedy One of America's Best Plastic Surgeons of 2021

Brian K. Reedy, M.D. was named one of "America's Best Plastic Surgeons 2021" by Newsweek magazine, a distinction reserved for the top specialists in the field of plastic surgery. To determine the nominees, Statista Inc., the global market research firm, surveyed nearly 3,000 medical experts with knowledge in plastic surgery, asking them to recommend the best plastic surgeons across the U.S. for four categories: breast augmentation, facelift, liposuction, and rhinoplasty. Out of the 5,000+ peer responses, the top 200 plastic surgeons for breast augmentation and the top 150 for facelift, liposuction, and rhinoplasty were identified. Dr. Reedy was chosen by his medical peers for two out of the four categories—rhinoplasty and breast augmentation—for his outstanding skill and experience with these procedures.
Read more in our official post here.
Dr. Reedy and the Berks Plastic Surgery team help a woman with severe acne scarring on The Doctors
Penny, a local Pennsylvanian woman, spent most of her life struggling with severe acne and the resultant scarring. After spending thousands of dollars on ineffective treatments and medications, she had resolved herself to permanently feeling self-conscious over her skin. And that's where Dr. Reedy and The Doctors came in!
Dr. Reedy chats with Good Day PA about non-surgical cosmetic technology
Dr. Reedy joined host Amy Kehm to discuss all things aesthetic, including some exciting new treatments and how he's helping demystify them.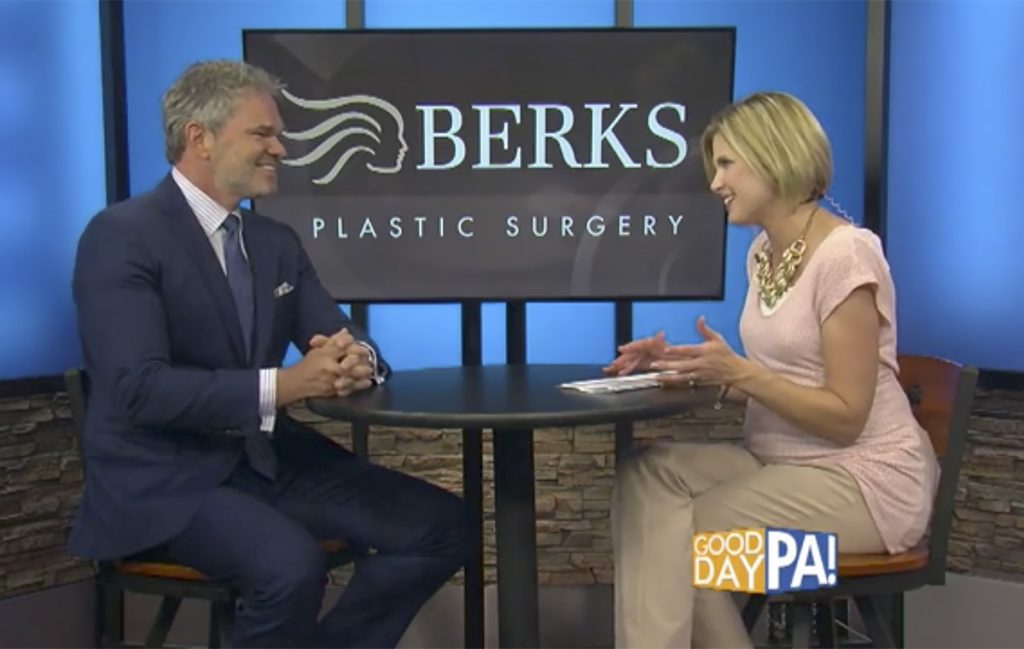 The Reading Eagle highlights Berks Plastic Surgery for our 25th anniversary
In 2017, Berks Plastic Surgery celebrated our 25th anniversary and the Reading Eagle published a business profile exploring the history of our practice.