Jesse Schell
Skin Care Aesthetician in Reading, PA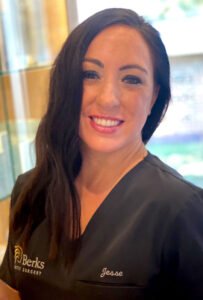 Jesse has been a dedicated skin care professional for over 20 years and joined Berks Plastic Surgery in March of 2020. She has spent the last two decades vetting treatments and products to help her patients achieve safe, restorative skin care results. With an intimate knowledge of skin health and years of experience, Jesse is a passionate Aesthetician offering a comprehensive range of skincare products and treatments such as chemical peels, laser skin treatments, Hydrafacial MD, and custom facials.
Certification, Training & Education
Jesse graduated Valedictorian of her class for Medical Assisting in 2005 and began her career working in a Dermatology office, learning the safest, most effective treatments for a range of skin concerns. Jesse continued her education with certifications in LED Light Therapy treatments, acupressure and Shiatsu facelift procedures, and customized facial treatments. Jesse continues to stay up-to-date on the latest advances in skin care products and treatments by regularly attending professional seminars and training.
Outside the Office
Jesse is passionate about all aspects of health, personal care, and well-being. She received her Certified Personal Trainer certification from the American Council on Exercise in 2017 and leads multiple classes in Pilates and fitness.
Book Now