Your Cosmetic Consultation
What to expect from your first visit at Berks Plastic Surgery
When you're considering plastic surgery, coming into the office for a consultation is an exciting experience. We've put this page together to give you a better idea of what to expect at your consultation here at Berks Plastic Surgery. We want to make this process helpful and fun for you. If you have any questions, please contact us. We will be happy to help you.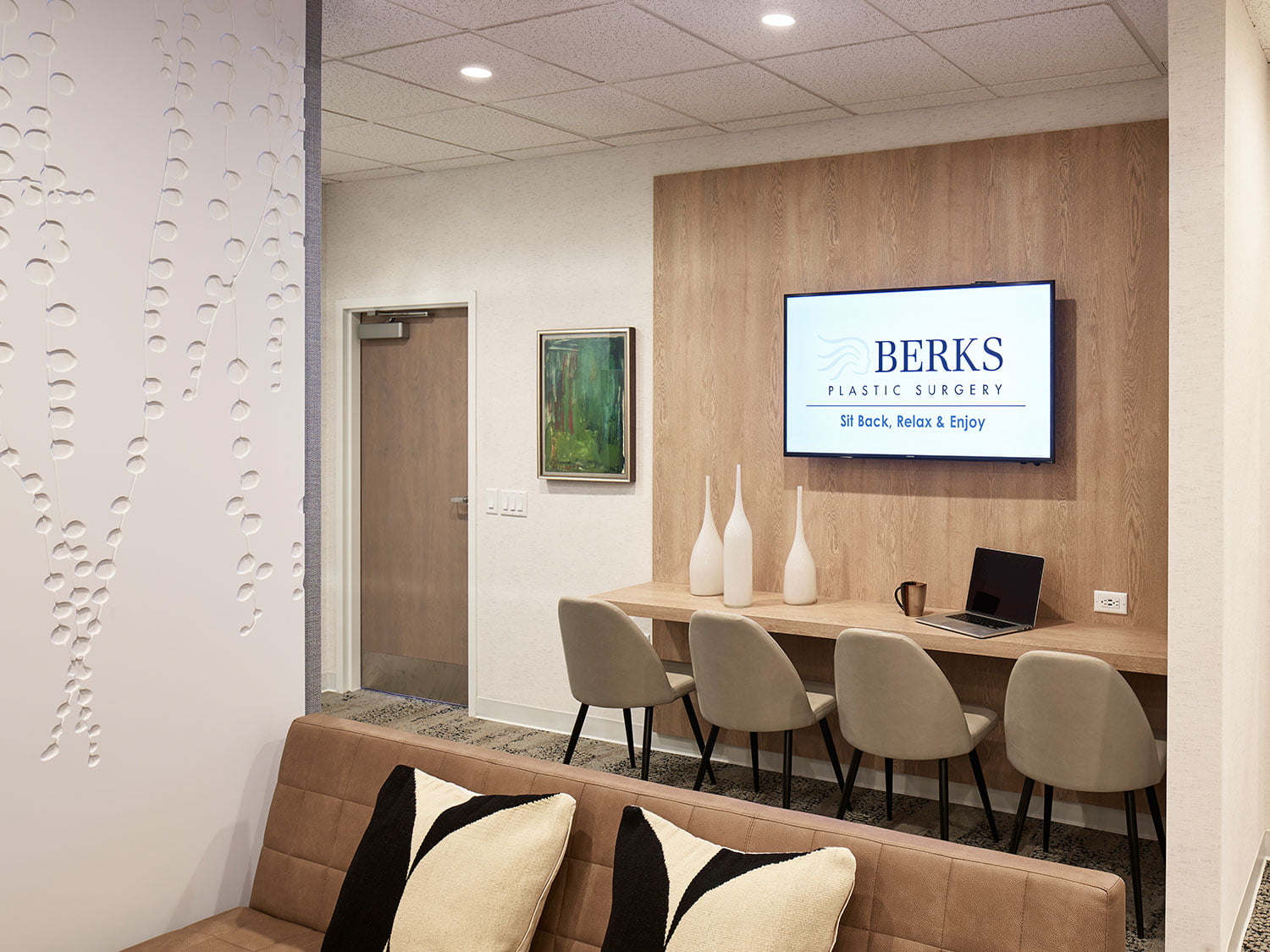 Step 1: Give us a call
The first step is to give us a call and tell us your area of interest. We are here to help you any way we can. You will speak with one of our patient coordinators or you can contact us online. We'll respond momentarily so a time can be scheduled for a phone call that is convenient for you. We will need to ask you a few questions to determine your best options, and we can answer any questions you may have. Questions regarding recovery, fees and financing can be answered during this conversation. We will be happy to schedule a complimentary consultation on a day that works best for you. Click to download our new patient forms.
Step 2: Meet your patient coordinator
When you arrive for your consultation, you'll be greeted by our receptionist who will collect your new patient paperwork and get you checked in. Then our patient coordinator, Stephanie, will meet with you.  She will be your personal guide through the consultation and the entire surgery process.  Get a map & directions to our office.
Step 3: Meet with your surgeon
This is the main part of your consultation. With your patient coordinator at your side, either Dr. Reedy or Dr. Lindsay will come in and introduce himself. He will want to hear your reasons for considering surgery. Next, he will briefly examine your area of concern. Then, based on your goals and his examination, your surgeon  will suggest the treatment options that will best achieve your optimal outcome. Then, you'll have all the time you need to ask questions.
Our patients that are consulting for breast augmentation or breast augmentation with a lift, will be able to try on breast implants. Your surgeon and your patient coordinator will offer guidance on what size will be best for you, your frame and your goals. We suggest that you bring a top from your closet so you can see how good you will look in one of your own shirts. This is a lot of fun! We can even send you home with a picture of your new look. You get to see what you will look like in the cup size you want; however, don't stress about the size. We will do another careful fitting at your pre-operative appointment. Learn about your breast implant sizing session.
Step 4: Get info on financing, scheduling, and surgery
After all of your questions have been answered, we will give you a personalized quote for the procedures that were discussed. We will go over financing options and answer any additional questions. Once our patients learn about their options, they get very excited and want to get the process started. Dr. Reedy operates every Tuesday & Thursday and Dr. Lindsay operates on Monday & Wednesday. However, we do our best to accommodate your scheduling needs and will discuss what day is going to work best for you. Then, after choosing your surgery date, we will schedule your pre-operative appointment and secure your surgery date with a 10% deposit. If you are planning on financing the procedure in full, we will secure that instead. You will leave our office feeling confident and excited! See our financing & payment options.