Meet Kara Lytle, CRNP
Certified Registered Nurse Practitioner in Reading, PA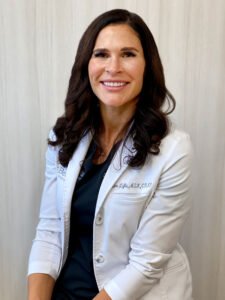 Kara Lytle is our Certified Registered Nurse Practitioner (CRNP) at Berks Plastic Surgery. She started at our practice as a Nurse Injector in 2015, bringing eight years of experience as a Registered Nurse at Penn State's St. Joseph Medical Center. Since then, Kara has worked tirelessly to complete her Master of Science in Nursing (MSN) degree from Walden University and advance her training at Berks.
Aesthetic Services
As a Certified Registered Nurse Practitioner, Kara offers a wide range of dermatology and aesthetic services, including:
Cosmetic injections, including BOTOX & dermal fillers
Custom facials & chemical peels
Medical-grade skincare products
PDO thread lifts
Hair restoration
Vaginal rejuvenation
BodyLogic treatments (Bioidentical Hormone Replacement Therapy)
Kara works closely with our Dermatology Physician Assistant, Stacey Spehalski; our Skincare Aesthetician, Donna Erb; our Lead Nurse Injector, Maria Fotis; and our surgeons, Dr. Brian Reedy & Dr. Scott Lindsay, to consistently deliver beautiful aesthetic results to her Reading, PA patients.
Schedule a cosmetic consultation with Kara
Kara is currently welcoming new patients at Berks Plastic Surgery at 50 Commerce Dr. Wyomissing, PA 19610. Contact Kara online or call (610) 320-0200 to schedule your cosmetic consultation today!