HydraFacial MD® in Reading PA
Put Your Best Face Forward with a Hydrafacial
Could your face use a little extra love? Then indulge your skin with a HydraFacialMD®! This wildly popular treatment uses a medical-grade hydradermabrasion device to carry out a patented three-part regimen — cleansing, exfoliating, and then infusing the face with intensive serums. HydraFacialMD® tackles sun damage, dry, dull complexion, acne, dark spots, and fine lines. You'll see improved texture and skin tone and an unmistakable glow after your first treatment!
What to expect with your Berks HydraFacial treatment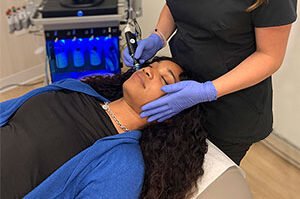 Why are so many people singing Hydrafacial's praises? Because it's more than a "feel good" facial. Instead of harsh abrasives, chemicals, or heat, Hydrafacial uses a constant stream of water to flush out impurities while simultaneously pushing in potent anti-aging serums designed to moisturize, brighten, plump, and protect. It's comfortable and non-invasive and you'll leave with your face feeling fantastic!
Each HydraFacial treatment involves five key steps:
Vortex™-Exfoliation to remove dead skin cells
Vortex™-Peel to gently slough away damaged outer layers of skin
Vortex™-Extraction to unblock clogged pores
Vortex™-Boost to hydrate and firm the skin
Vortex™-Fusion to infuse protective antioxidant serums
We can customize your HydraFacial to address your unique skin profile addressing specific issues including:
Acne and oily skin on the face or back
Sun damage, hyperpigmentation and melasma
Fine lines and wrinkles
Large pores and texture problems
Puffiness and dark circles around the eyes
You can choose a 30, 45, or 60-minute session. Because HydraFacial's results are immediate, and it's skin brightening effects can last for up to 7 days, it's a go-to treatment to get ready for a special occasion.
Berks HydraFacial Options & Pricing
We make it easy to customize your HydraFacial to your schedule and skincare needs with a variety of options:
Signature
This HydraFacial MD treatment utilizes super-serums filled with antioxidants, peptides and hyaluronic acid to boost hydration, help address the signs of aging and protect skin from environmental aggressors, leaving it recharged, renewed and invigorated. From $199. Approx. 30 minutes.
Clarifying
The Signature HydraFacial treatment with a concentration on extractions and LED to help rid skin of bacteria causing acne. From $225 Approx. 60 minutes.
Deluxe
An invigorating treatment that includes all of the essentials of the Signature HydraFacial while addressing your specific skin concern with a concentrated booster. This treatment concludes with LED Light Therapy to further reduce the visible signs of aging. From $260 Approx. 60 minutes.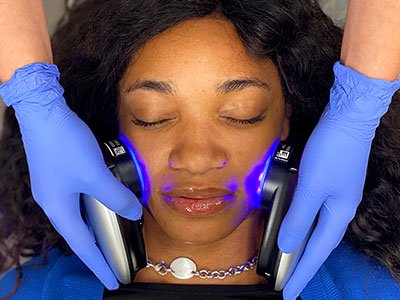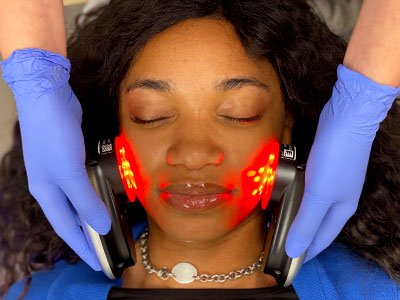 Platinum
The ultimate HydraFacial experience! Begin the detoxification process with Lymphatic Drainage. Then, the Signature HydraFacial deeply cleanses, exfoliates, extracts and hydrates the skin while addressing your specific skin concern with a Booster of your choice. This treatment concludes with LED Light Therapy to further reduce the visible signs of aging. From $325 Approx. 60 minutes.
Platinum Plus
Take the Platinum Hydrafacial a step further – This Hydrafacial includes treatment of the neck & decollete. From $400 Approx 90 minutes.
Add a PERK Eye or Lip Treatment
If you are looking to enhance, hydrate and smooth your lips and eye area, Perk is just right for you! Using patented technology to exfoliate, hydrate and rejuvenate, your Perk treatment can either be done by itself, or as an add-on to your HydraFacial treatment. Eyes $35 & Lips $30 Approx 10 minutes.
How many treatments do I need?
It all depends on you! If you're aiming to prepare for a special occasion just one treatment will get you the results you're looking for. If you're looking to diminish fine lines, sun damage and other visible signs we recommend a series of monthly treatments.
The next step is to contact us! Contact us today for your free consultation.