Stephanie's Real Patient Story
The Berks Plastic Surgery team helps Stephanie shine from top to bottom
Stephanie thinks it's important to feel just as great on the outside as you do on the inside—and she turned to Berks Plastic Surgery to help her out.
After hearing her girlfriends rave about Berks Plastic Surgery's skilled surgeons and expert team, Stephanie knew it would be the perfect place for her.
"Many patients will go on multiple consultations, but I didn't need to—the second I walked through the doors of Berks Plastic Surgery, I knew that this was where I was having my procedure done."

Stephanie
In 2010, Stephanie had a breast augmentation with another provider—and saline implants were practically her only choice, due to many surgeons not feeling comfortable with the newest generation of gel implants quite yet. Fast forward a few years, and Stephanie saw first-hand how happy Berks Plastic Surgery patients were with their silicone implants…and how beautiful and natural-looking their results were.
"I knew I had to have them! I went a little bit bigger, but the biggest advantage is how natural they look and feel."

Stephanie
Visit our Patient
Before & After Gallery
Model
Stephanie's breast augmentation in particular impacted her life in ways she never thought possible. Her confidence skyrocketed, she felt sexy in her clothing and swimsuits, and she had a happier overall demeanor. In sum, she wouldn't change a thing about her time at Berks Plastic Surgery—and as a patient coordinator at the practice, she loves being able to share her experiences with patients.
"From the front office staff to the nurses to the doctors, we are all one big family. I think our patients appreciate that about us."

Stephanie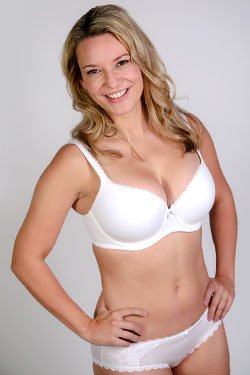 Over the years, Dr. Reedy and his expert team have helped Stephanie feel better in her own skin with a number of nips, tucks, and non-surgical tweaks, including:
Microneedling
Dermaplaning
Hoping for a positive experience like Stephanie's? Contact us today to schedule your complimentary consultation!