Reading PA Facelift Surgery
Take a decade off of your appearance
Some of the most visible signs of aging first appear on the face. Although the changes appear gradually, there may come a day when you look in the mirror and decide that the face you see doesn't reflect the way you feel about yourself. If you'd like to look as good as you feel, a facelift can help. Also known as rhytidectomy, a facelift smooths the loose skin on your face and neck, tightens underlying tissues and removes excess fat. As a result, your face will appear significantly firmer, more youthful, and refreshed.
I look and feel younger and more beautiful. It was everything I'd hoped for.
Read more patient testimonials
Is the facelift procedure right for me?
Here at Berks Plastic Surgery, we offer a large number of facial procedures and rejuvenating non-surgical treatments—and your facial rejuvenation plan should be unique to your individual concerns and facial structure. The best way to determine if a facelift (or any other procedure or treatment) is the best option for you is to meet with a qualified plastic surgeon who can help you explore your options.
Typically, patients who experience the following are good candidates for a face lift:
A deep line that runs from the corner of your nose to the corner of your mouth
Loss of a well-defined jawline
Deep wrinkles in the cheeks and sagging skin near the cheekbones
Loose skin, wrinkles or excess fatty tissue in the neck
Our surgeons take care to customize facelift surgery for each individual patient, ensuring that the results look natural, much like you might have looked in younger years. This also helps to make sure that your facelift results age naturally with you over the years to come.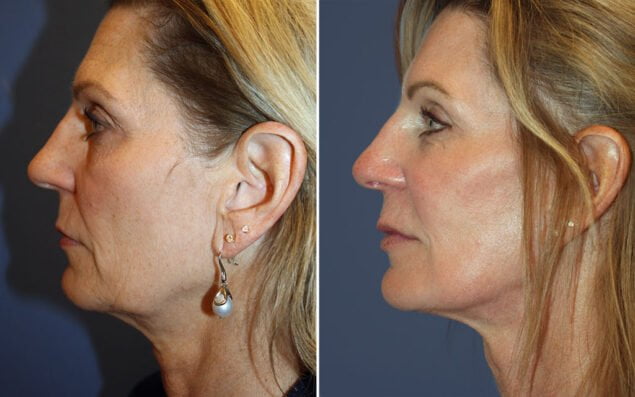 Benefits
A facelift procedure can have numerous benefits, including:
Smoothing and contouring the face
Rejuvenate your appearance
Tighten underlying muscles
Remove sagging, excess skin
Improve confidence
Your consultation & surgery
During your facelift consultation, Dr. Reedy or Dr. Lindsay will discuss your goals and evaluate your face to determine the best course of treatment. In many cases, combining a traditional facelift with another facial procedure can help a patient get the best results. Additionally, non surgical facial treatments, such as injectables or laser treatments, can further enhance the results of a facelift.
Facelifts are an outpatient procedure, performed in our AAAASF accredited, on-site surgical suite. For your safety and comfort, you will receive local or general anesthesia with a qualified provider. During your facelift procedure, your plastic surgeon will make small, inconspicuous incisions that should be naturally hidden by your hairline. Through these incisions, he will lift your facial tissues, remove any excess or sagging skin, and tighten remaining skin around the mid-face, jawline, and neck areas. Your incisions will be sealed with sutures and dressed, and you should be able to return home the same day.
Recovery & Results
Common surgical side effects including some swelling and bruising are normal after a facelift and may last around 10 to 14 days. Most patients return to work and light physical activity after 2 weeks of their facelift surgery. Facelift incisions will continue to fade overtime, and will be harder and harder to see as they are also carefully concealed beneath your hairline. You can expect your final facelift results to be visible around 6 months after surgery.
Visit our Facelift
Before & After Gallery
Model
Frequently Asked Questions
Are there alternatives to a facelift?
When you meet with your facial plastic surgeon, they may determine that you are better suited for a different facial rejuvenation procedure, rather than requiring a full facelift to achieve your cosmetic goals. If you have less obvious signs of aging, concentrated in specific areas of the face or neck, you may be better off getting a different cosmetic facial procedure rather than a full facelift. If excess skin on your upper or lower eye is blocking your vision or making you appear tired, then an eye lift may be the right fit for you. If the majority of your aging, drooping skin is in the neck, a neck lift may do the trick. For people who primarily have a heavy brow and lines and wrinkles in the forehead, then a brow lift might be best.
Do you perform facelifts for men?
Yes, many of our male patients opt for a facelift to reduce sagging skin on the face and neck, remove excess bulges of fat around the jawline, and tighten underlying facial tissues to restore a firm, youthful appearance and highlight masculine facial structure. Learn more about facelift for men here.
How will a facelift procedure improve my skin?
Our providers use advanced facelift techniques to lift and tighten your facial muscles and skin. As a result, a facelift will provide you with more taught skin (but with a natural look, not a "wind-tunnel" appearance), thus reducing lines, wrinkles and other signs of aging, as well as improving your facial contour.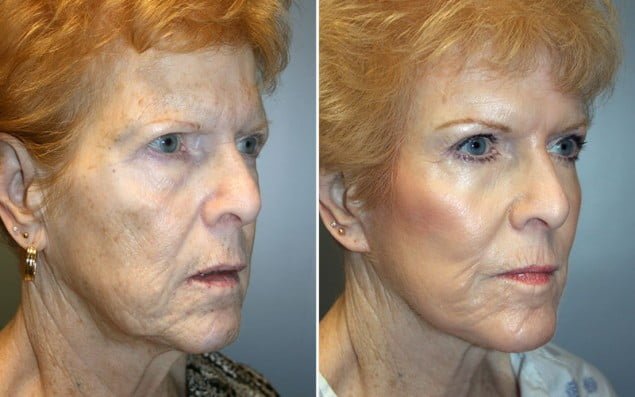 Ready to turn back the clock on signs of aging? Our board certified plastic surgeons have been serving patients at our Reading plastic surgery center for decades, and offer a full range in a number of cosmetic face, breast, and body procedures, including breast augmentation, breast reduction, eyelid surgery, tummy tuck, mommy makeover, neck lift, thigh lift, brow lift, liposuction, and more. If you live near Allentown, Pottsville, Reading or Lancaster, the facial specialists at Berks Plastic Surgery can help you get the results you are looking for! To schedule an appointment or to learn more about the facelift procedure, our techniques, procedure pricing, or any of our other cosmetic services, please contact us today.