Top Gifts to Treat Yourself After Breast Augmentation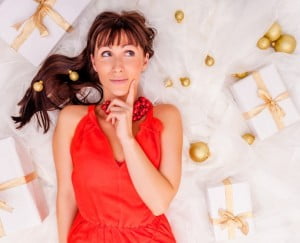 We think treating yourself after the stress of the holidays is important—particularly if you recently had surgery or are looking for ways to celebrate your new look.
To help, we've come up with a few ideas for the best gifts to give yourself after breast augmentation surgery.
Embracing the New You
Love Your Look from the Bottom Up with Lingerie
One of the best gifts to complement your new breasts is a new bra. No one knows your preferences more than you do, so this is one present that's perfect to pick out yourself! After your new breasts have settled and you're seeing your final results (around 6 months), you'll be ready to shop for the perfect bra. We recommend taking the day to shop around, get a professional bra fitting, and enjoy trying on different styles.
Embrace Your Confidence with a Boudoir Photo Session
After breast augmentation, you may notice your confidence level is at an alltime high, which may include an openness to trying new things. A boudoir photo shoot can help you feel glamorous, sexy, and self-assured. If you have a special someone in your life you want to gift the photos too, great! If not, you'll have tangible proof that you are gorgeous, confident, and rocking your new curves.
Pamper Yourself Post-Surgery
Gift Yourself a New Gadget
If you're still healing from surgery, you likely have more downtime than you're used to—and making sure you have plenty to do is a great way to get through the process. If you've been wanting a new iPad or Kindle, purchasing one before your procedure is a great treat that will help keep you entertained throughout your recovery.
Get Cozy with Comfy Pajamas
Some days, there's nothing better than cuddling up in soft PJs—particularly with the cooler temperatures of winter. Before you have your procedure, pick out a great pair of new pajamas for you to open when you get home so you can heal in comfort and style. Just make sure to buy a button down top that will be easy to take on and off.
Ultimate Relaxation with a Spa Day
A day at the spa is the perfect way to unwind. Make a day completely dedicated to pampering your needs, whether it's with a massage, new hairstyle, or specialty facial treatments. If you can't make it to the spa, have your own spa day at home. Purchase some top of the line skincare products, buy a healing foot soak, some bubble bath, and take a much deserved "me day."
Get Dolled Up
Splurge on a New Outfit & Jewelry
After surgery, you'll be feeling extra proud of your new figure and finding new clothes that best flatter your shape will be a fun and exciting endeavor. To celebrate you, head to your favorite boutique and pick out an entire outfit that highlights those new curves in the best ways. You can accessorize with a signature necklace to complement your decollétage too!
Plan a Night Out
So, you've got your new lingerie, you've pampered yourself at the spa, and you're ready to show off your new figure with that classic ensemble—now it's time to make plans for a great night on the town! Grab a loved one, make reservations for your favorite restaurant, and plan an ideal evening that celebrates the new you.
Whatever You Do, Do it For You
If nothing on this list appeals to you, check out these other suggestions for great ways to gift yourself after breast augmentation from women who have gone through the same thing. And if you have breast augmentation in Berks county on your wish list, give us a call or contact us online—we'd love to set up a free consultation with you!