Healthy Summer Grilling: Marinated Salmon with Tropical Salsa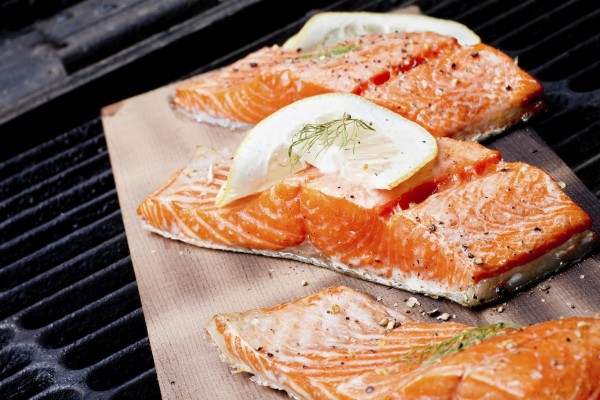 Summer's here and there's nothing quite like cooking out with family and friends. Unfortunately, weekend after weekend of burgers and hot dogs isn't exactly the healthiest fare. But you can still break out the grill and enjoy delicious, healthy food!
One of my family's favorite healthy summer recipes is grilled, marinated salmon with tropical salsa. Keep reading for the recipe!
Grilled Marinated Salmon with Tropical Salsa
For the Salmon, You'll Need:

Juice of 2 lemons
1 tb honey
2 tsp sriracha
1 tsp olive oil
¼ tsp black pepper
4 salmon filets

For the Salsa, You'll Need:

½ c diced mango
½ c diced pineapple
½ c diced kiwi
¼ c slivered red onion
Small handful chopped cilantro
¼ c fresh orange juice
Combine all of the marinade ingredients above in a large ziplock baggy. Add the salmon filets and let marinate for around half an hour in the refrigerator, turning occasionally.
While the salmon is marinating, you should heat up your grill to medium and prep the salsa (instructions below). Once the grill is preheated and the salmon marinated, place the filets on the grill, cooking for 3-4 minutes on each side (or until the fish flakes when tested with a fork).
Tropical Salsa
In a medium-sized bowl, combine all of the salsa ingredients and stir gently without breaking down all of the fruit pieces. Cover with plastic wrap and allow to sit while fish is marinating and cooking.
Serve the tropical salsa over the fish and there you have it! A tasty, healthy grilled summer meal.