Lip Enhancement Reading
The lips are a central part of the face, responsible for creating symmetry and accentuating our other facial features. As we age, the skin, fat, and muscle around our face starts to lose volume and elasticity, which can result in lips that appear thin and wrinkled. Our expert nurse injectors perform lip enhancements in Reading to help our patients achieve fuller, smoother lips that look and feel more youthful.
Choosing the perfect lip filler
Lip enhancement, also known as lip augmentation, is a cosmetic procedure that uses an injectable filler, fat, or implant to temporarily increase the fullness and shape of the lips. At Berks Plastic Surgery, we use hyaluronic acid-based lip fillers to plump and hydrate the lips for that irresistibly kissable look. Hyaluronic acid fillers also have the benefit of being dissolvable with a naturally-occurring enzyme called hyaluronidase, allowing our nurse injectors the ability to fine-tune your filler as needed.
We offer the following Juvéderm® and Restylane® fillers to achieve your desired results and address your lip concerns:
Increase lip volume
For those wanting a bold look to their lips, our nurse injectors use Juvéderm Volbella XC or Vollure XC to plump up the lips and subtly improve definition & shape. Results typically last a year or more.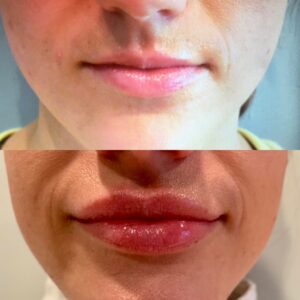 Smooth vertical lip lines
Over time, repetitive lip movements such as drinking with a straw, eating, and talking can cause vertical lines (also called "smoker's lines") to form between the upper lip and nose. Vertical lip lines can make us look older than our true age and draw attention away from our other facial features. Our nurse injectors prefer using Juvéderm Volbella XC and Restylane Kysse for smoothing away these unwanted lines.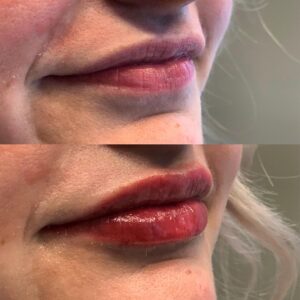 Improve symmetry in the lips
Carrying a little more volume in one lip than the other? A single Juvéderm Volbella XC or Restylane Kysse injection is typically all that's needed to create symmetry between the upper and lower lips.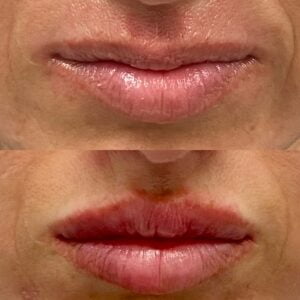 Add a little flip to your lip

If you want to take your lip filler results to the next level, or you simply want to add a little flair to your lips, a BOTOX® lip flip can enhance the appearance, shape, and fullness of your lips. Our nurse injectors will inject small amounts of BOTOX into your orbicularis oris muscle situated just above your upper lip, causing the lip to curl slightly upwards. This creates a more defined and full shape to the upper lip that doesn't disappear when you smile. It also has the added benefit of smoothing away any vertical lines that may develop around the lip. On average, Botox lip enhancement results last up to 4 months.
Lip flip or fillers: Which is right for me?
The goal of the BOTOX lip flip is to shape, rather than volumize, the upper lip; that said, it can give the appearance of a fuller upper lip by rounding out its edges. Filler, on the other hand, is effective at both volumizing and shaping the lips. Instead of choosing between the two, our nurse injectors often recommend a combination of BOTOX and filler to accentuate shape and increase fullness in the lips.
What to expect from your lip enhancement at Berks Plastic Surgery
In this video, Nurse Injector Sarah Reedy sits down for a quick chat about what you can expect from a lip filler treatment at Berks Plastic Surgery.
Trust your lip enhancement to the experts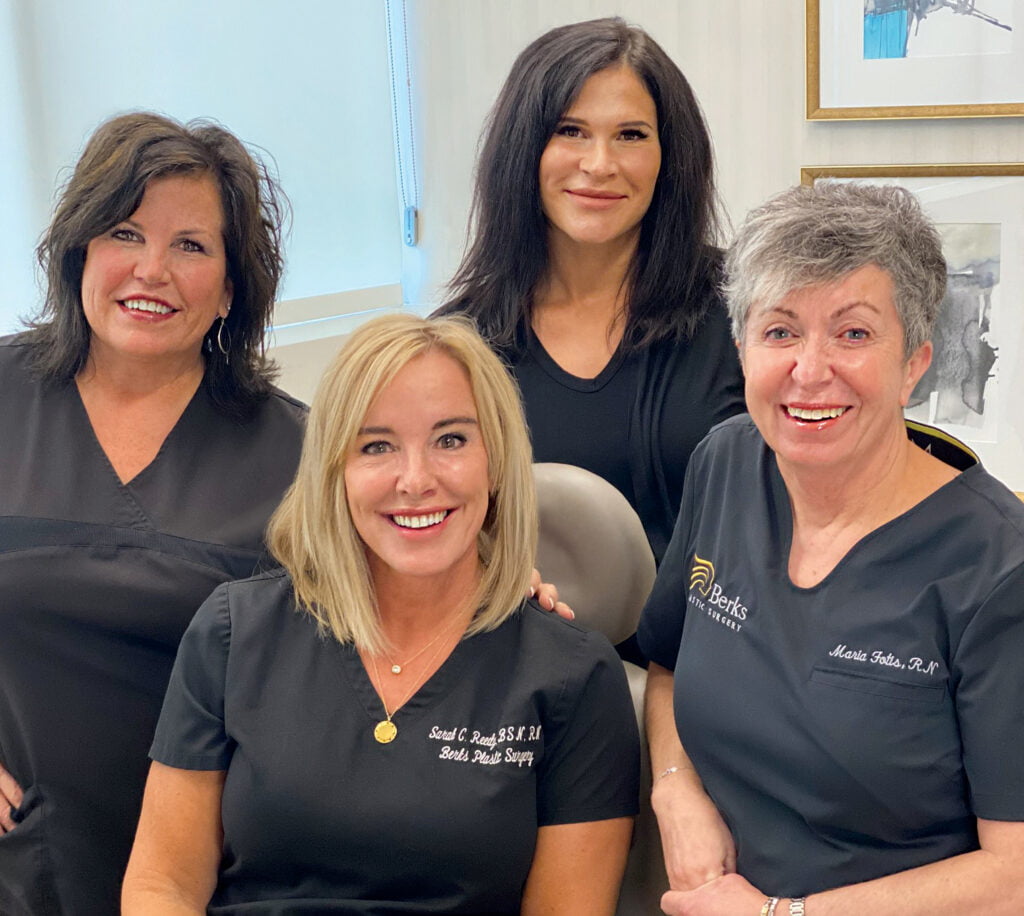 Our expert team of nurse injectors have decades of experience in medical skincare and are highly skilled at performing lip injections. They will work with you to develop a lip enhancement plan that meets your aesthetic goals during a personal consultation.