Thinking of having your breast implants removed? Here's what you need to know about explantation.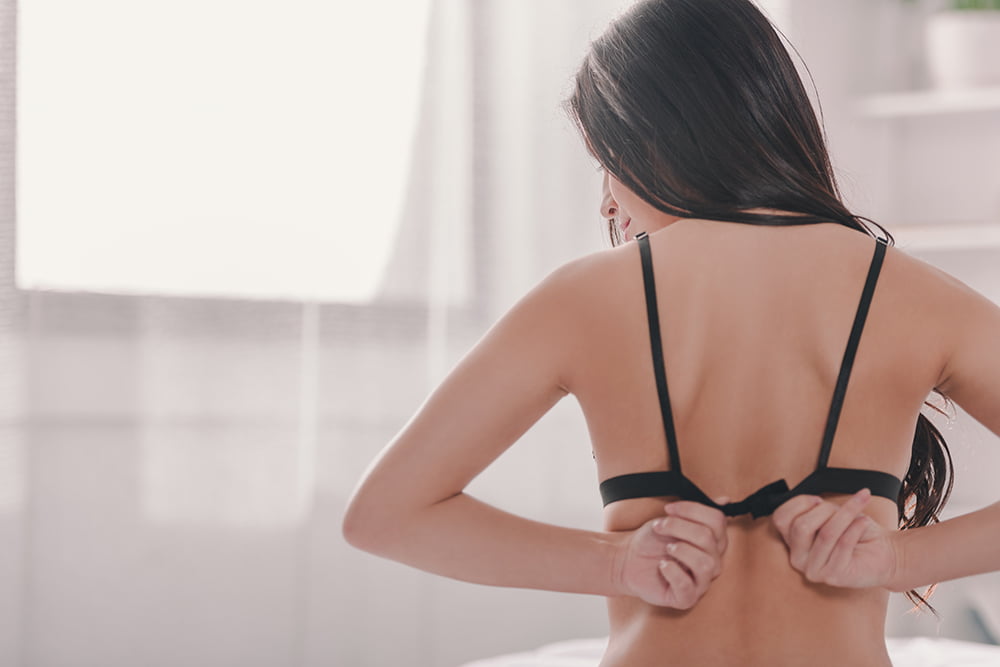 Breast augmentation remains the most popular cosmetic surgery procedure in the United States—that said, every year, there is also a small percentage of women who choose to have their breast implants removed. That's because there have always been cases where breast implants no longer suited a patient's lifestyle or they needed to be removed for health reasons.
However, with recent news regarding certain implants being associated with a very rare form of cancer (BIA-ALCL), as well as some patients reporting they feel their implants are causing systemic health issues (termed "breast implant illness"), more women are asking plastic surgeons, including me, if they should have their breast implants removed.
Whether or not to have your implants removed for health reasons is a very personal decision you should make with your doctor, having full knowledge of the risks and pros & cons for either choice. I can say that the vast majority of my Reading breast augmentation patients remain very happy with their implants—but the small number of patients who have explantation surgery with me are also happy with their decision.
While this blog post can't substitute for in-depth consultation with your own physician, I'd like to help you understand more about breast implant removal.
What are the reasons for breast implant removal?
While every patient's reasons for having their breast implants removed are personal, here are the most common:
Personal preference. For some, their aesthetic ideals have changed, while others have comfort-related reasons, such as participating in intense athletics.
To address a complication, such as capsular contracture or implant rupture
Desire to rule out implants as a possible source of health problems
Medical necessity; i.e., when a patient is undergoing breast cancer treatment
Explantation is an appropriate option as long as it is what a patient wants for herself, and the surgery can be performed safely. If you pursue breast implant removal, be sure to choose a reputable board certified plastic surgeon who has specific experience in the procedure.
What is breast implant removal surgery and recovery like?
Explantation is typically performed as outpatient surgery using general anesthesia, although in some very straightforward cases, local anesthesia can be used to remove saline implants. Whenever possible, I will use the same incision site used for the initial breast augmentation procedure. Through this incision, I will carefully remove the implant and surrounding scar tissue (capsule), and then close the incisions.
My patients typically need even less downtime after explantation than they did after breast augmentation. In most cases, five days off work is plenty. However, you will still have to refrain from strenuous exercise and lifting for several weeks while your incisions heal.
Explantation is an appropriate option as long as it is what a patient wants for herself, and the surgery can be performed safely. Just be sure to choose a reputable board certified plastic surgeon who has specific experience in breast implant removal.
What will my breasts look like after explantation?
Obviously, your breasts will be smaller. But, depending on how long you've had your implants, how large the implants were compared to your natural breast size, whether or not you have had children, and other factors, your breasts may look similar to—or very different from—how they did before your augmentation. Remember, having breast implants doesn't freeze the aging process or prevent other tissue changes; whether augmented or not, breasts change over time.
Immediately after surgery, you can expect some post-operative swelling, bruising and soreness, just as you did after breast augmentation. You may feel pleased—or perhaps concerned—with the less-full appearance of your breasts, but in any case, you'll need to be patient in assessing your results as swelling subsides and the skin gradually contracts to some degree. If, after healing, you find the skin has stretched to the point that you feel dissatisfied with your appearance, you may consider having a breast lift to correct the issue.
Lastly, note that explantation scars will be present, although they should fade over time. To speed incision healing time and minimize the appearance of scarring, be sure to follow all of your surgeon's post-op instructions to the letter.
Do I need en bloc capsulectomy?
If you've been researching breast implant removal options, you've probably come across information about en bloc capsulectomy. This is a specific explantation technique that involves removing the breast implant and surrounding capsule of scar tissue as one single piece (en bloc means "all together"). With this technique, the capsule is separated from the surrounding breast tissue without breaking it, and then removed with the implant still sealed inside.
There are a few key benefits with en bloc capsulectomy, particularly if we are removing ruptured silicone implants. Keeping the capsule intact ensures that the silicone gel is contained. We'll also recommend en bloc capsulectomy if a complication such as BIA-ALCL is suspected.
There is no single "best" breast implant removal technique. An experienced plastic surgeon can help you understand whether en bloc capsulectomy or another method is most suitable for you.
However, the technique is not without its drawbacks. For one, a much longer incision is required with en bloc capsulectomy, as we cannot collapse or squeeze the implant/capsule during removal. Second, it's not always a safe or practical option, especially if the capsule is very thin or it is closely adhered to the chest tissue.
Moreover, en bloc capsulectomy is not the only technique that allows for complete removal of the capsule and breast implant matter. For most patients, it is actually a better option to open the capsule, carefully remove the implant, close it, and then go back and release the capsule from the surrounding tissue before removing it. All this can be done using the same incision site as the original breast augmentation (assuming an inframammary incision was used).
The moral of the story is that there is no single "best" or "safest" breast implant removal technique. It is also not uncommon for a surgeon to have to adjust their surgical plan as they work, especially with en bloc capsulectomy—if the capsule is too thin, it may be impossible to keep it intact.
In sum, if your implants are intact, and you don't have BIA-ALCL, en bloc capsulectomy is not likely to be recommended. An experienced, board certified plastic surgeon can help you understand what breast implant method will likely be most suitable for you.
Is there anything else I need to know about explantation?
If you are considering explantation because you are worried about or think you may have "breast implant illness," I understand. A number of patients who have had their implants removed say symptoms such as fatigue, headaches, and joint pain improved or they generally felt better afterwards. Even explantation patients who do not experience an improvement in symptoms may still be pleased to have eliminated what had been a source of concern for them.
It's important to know that, because there are not yet scientific studies proving that breast implants can cause systemic issues, we cannot guarantee that removing your implants will improve your health. Be sure you have seen your primary care doctor first to rule out any diagnosable causes for symptoms, such as Lyme disease. If you cannot find an answer, removing your implants is an option to consider, knowing that explantation may or may not have any effect.
In my practice, if a patient wants her implants removed and she is a good candidate for surgery (i.e., her health is adequate to undergo a procedure and she is well-informed), then I am happy to perform explantation. I will work to provide the most aesthetically pleasing result possible, just as I do with any cosmetic procedure.
Have more questions about breast implant removal? Feel free to get in touch.
I hope you have found this information helpful; if you would like to discuss your concerns and procedure options further, I welcome you to contact my office to schedule a personal consultation with me or my colleague, Dr. Lindsay.