Pedicures to Plastic Surgery: Why Women are Bonding Over Injectables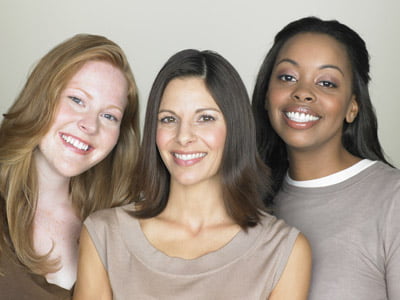 Women bond over injectables, in part, because doing things with our friends makes us feel better! Here is how one researcher puts it:
"Every time we get overly busy with work and family, the first thing we do is let go of friendships with other women," explains Dr. Ruthellen Josselson. "We push them right to the back burner. That's really a mistake because women are such a source of strength to each other. We nurture one another. And we need to have unpressured space in which we can do the special kind of talk that women do when they're with other women. It's a very healing experience." 1
So where are you going to find that quality time to spend with friends? Manicures, pedicures, and massages have provided this type of female bonding time for years. You can do the same with non-surgical cosmetic procedures like Botox or with filler treatments like Juvederm.
And bringing a friend really does make the time spent that much richer, for both of you. This also applies to moms and daughters. The American Academy of Facial Plastic and Reconstructive Surgery reports a 16% increase in mother-daughter plastic surgery and a 12% increase in sister-sister visits.
Choosing to schedule treatment with a friend or relative can improve the experience in several ways:
Having a loved one present can help calm pre-treatment jitters.
Going through treatment together is a bonding experience – no one else can share it with you.
Involving a friend, sister, or daughter can help you feel validated in taking time for yourself.
You can enjoy the healing process and look forward to final results together.
So many of us have innumerable responsibilities and thus tend to put our own needs at the bottom of the priority list. We do this to help the people around us, but the truth is that we all need to recharge. It's important to take time for yourself, and doing things that will also make you feel good about your appearance can increase the benefits of that personal time. As you age, it can be especially important to share your experiences with friends. It is likely they are concerned with the very same aspects of aging and will love to commiserate with you.
In sum, we encourage you to invest time in girlfriend power! Consider adding Berks Plastic Surgery and medical spa to the list of safe places to spend some quality girl time. If you are interested in exploring injectables and non-surgical cosmetic treatments, contact our office to schedule a free consultation. Feel free to ask a friend to join in the experience. We look forward to treating you together!
Ruthellen Josselson, Ph.D., co-author of Best Friends: The Pleasures and Perils of Girls' and Women's Friendships (Three Rivers Press, 1998)