Lengthen your Lashes with Latisse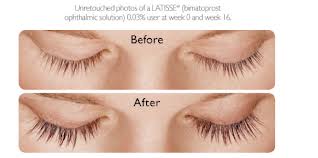 Here at Berks Plastic Surgery, we offer many procedures from plastic surgery to Botox to facials.  There are many different ways to change your life, improve your self-esteem and update your look.  Sometimes, it requires a complete transformation and other times it is something as simple as lengthening your eyelashes.
As women get older, our lashes tend to get thinner, shorter and their color may change.  Some women were born with naturally shorter lashes.  And on occasion, our facial hair growth can be affected by medicines or skincare products.  Whatever the case may be, there is a wonderful product on the market that can improve your eyelash length and thickness called Latisse.
A produced made by Allergan (the same company that produces Botox), Latisse is an FDA-approved treatment to grow lashes longer, fuller and darker.  Latisse is completely non-invasive and the side effects are minimal.  In fact, in the clinical study, less than 4% of patients experienced any eye itching, redness or irritation.
Patients will start to see results after 4 weeks, but the company advertises that you need to use Latisse for 16 weeks before you see maximum results.  After using Latisse for that 16-week period, many patients can maintain their results by using Latisse every other day instead of every day.  And if you no longer are enjoying the product or want your eyelashes to be the way they were, if you stop using Latisse, your eyelashes will return to their original condition.  In our experience, though, most patients won't ever want to go back to their old lashes!
If this sounds like a product that you would be interested in, give us a call.  Latisse isn't an over-the-counter product so you'll need to come in for a complimentary consultation with our aesthetician to obtain your product.  You won't regret it!