Reading, PA Silicone Breast Implant Imaging with Ultrasound
Offering affordable, accurate breast implant screening for your health & peace of mind at Berks Plastic Surgery
If you have silicone breast implants, your surgeon likely recommended routine MRI screenings for the life of your implants. That's because a silicone breast implant rupture can go undiagnosed and unnoticed for years, which is why it's referred to as a "silent rupture." But what if there was an affordable, convenient, and comfortable option available for ensuring your breast implants are intact? Now there is, right here at Berks Plastic Surgery!
Ultrasound imaging is the quickest and easiest way to know that your silicone implants are still in good shape.
We think you'll ❤︎ that it is:
Affordable
Shorter visit
Instant results
More comfortable experience
Convenient, in-office screening
Accepted by the FDA as an alternative to routine MRIs
As the only practice in Pennsylvania offering PS Imaging Ultrasound screening, we're thrilled to help our patients have peace of mind with a quick, in-office screening.
Why do I need to have my silicone breast implants screened?
Unlike saline breast implants, which visibly deflate should a rupture occur, the cohesive silicone gel used in silicone breast implants typically remains trapped in surrounding tissues—and the only way to properly diagnose a rupture is through imaging. The FDA recommends getting your first MRI three years after your silicone breast augmentation procedure and then every two years after.
Unfortunately, despite the risk of not detecting a silent rupture, most patients aren't able to commit to these biennial screenings—MRIs are expensive, take a lot of time, often require a referral, and can make some patients anxious.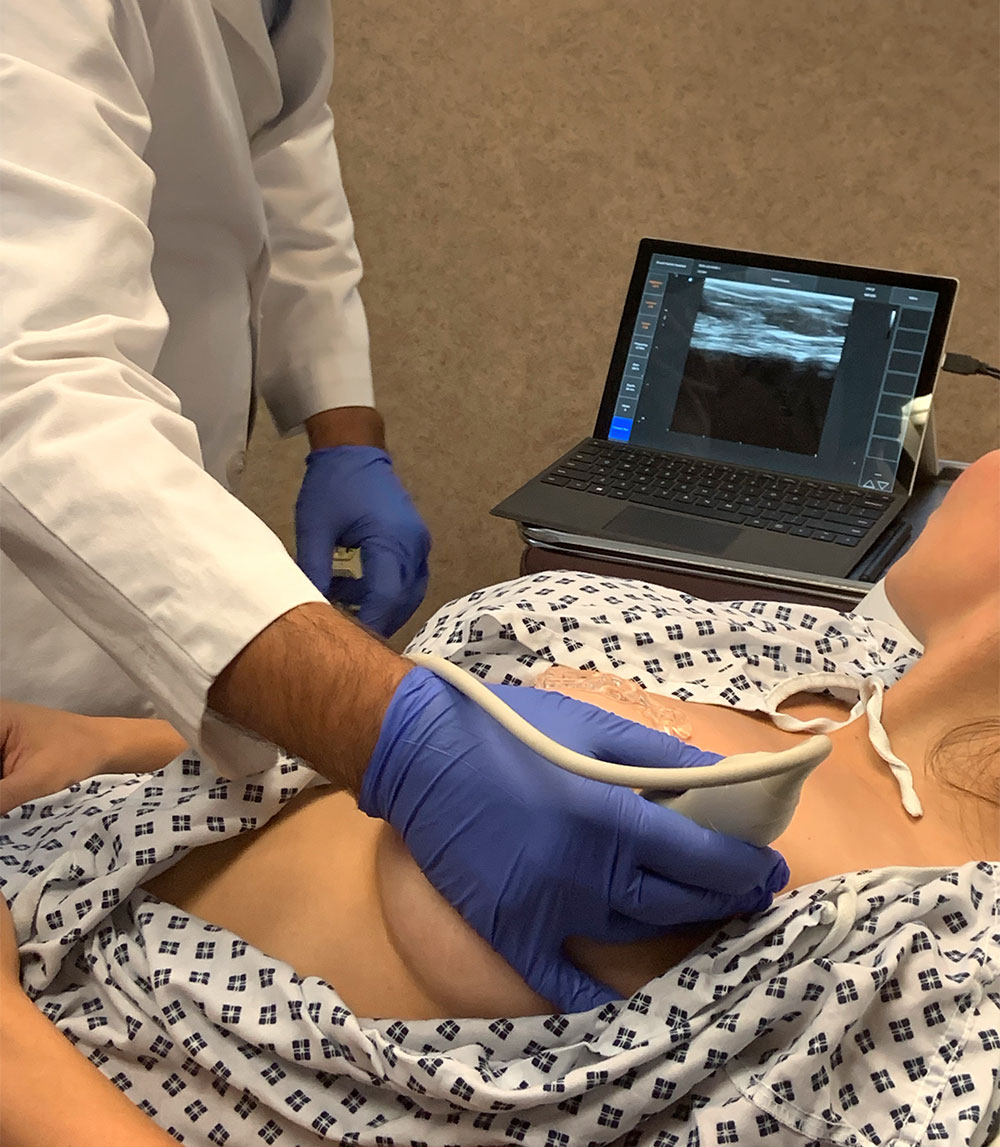 I recently had a concern of a possible leaking breast implant. I anticipated a worse case scenario of having to spend time and money to get an MRI but was pleasantly surprised when I found out that Dr. Reedy was able to do a high resolution ultrasound and luckily gave me peace of mind on the spot.

Real BPS patient, Erica W.
A more accessible imaging alternative: PS Imaging Ultrasound
Ultrasound imaging has a long history of safe use in medicine—and it is a proven, quality alternative to MRI.
Ultrasound Imaging is accepted by the FDA as an alternative to routine MRI screening of silicone breast implants
The use of MRI-alternatives was recently discussed by the FDA, and ultrasound imaging has been recommended as a great alternative for patients who aren't experiencing any symptoms.
Many plastic surgeons and physicians prefer the use of ultrasound for silicone implant imaging as it affords a much more comfortable, pleasant experience for patients. Unlike MRIs, you don't have to worry about removing your jewelry or metal, and the screening is gentle, quiet, and doesn't require you to sit perfectly still. Ultrasound screening is not a replacement for mammography or MRI if you have any symptoms or additional health concerns—it cannot detect lumps in the breast, for instance.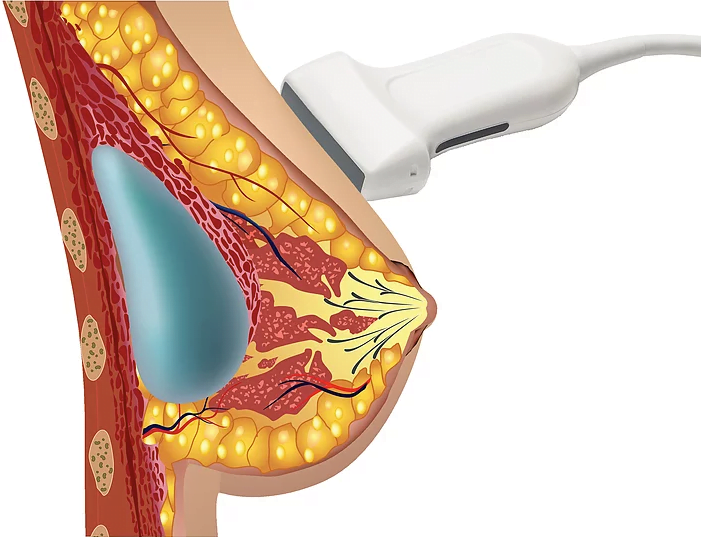 We are proud to offer the PS Imaging HRUS (high-resolution ultrasound) to our silicone breast augmentation patients here in Reading, PA. Your screening will only take around 20 minutes in the privacy of one of our treatment rooms. We will screen for silent rupture in addition to other potential complications, such as swelling or seroma. Ultimately, ultrasound imaging is the quickest and easiest way to know that your implants are still in good shape.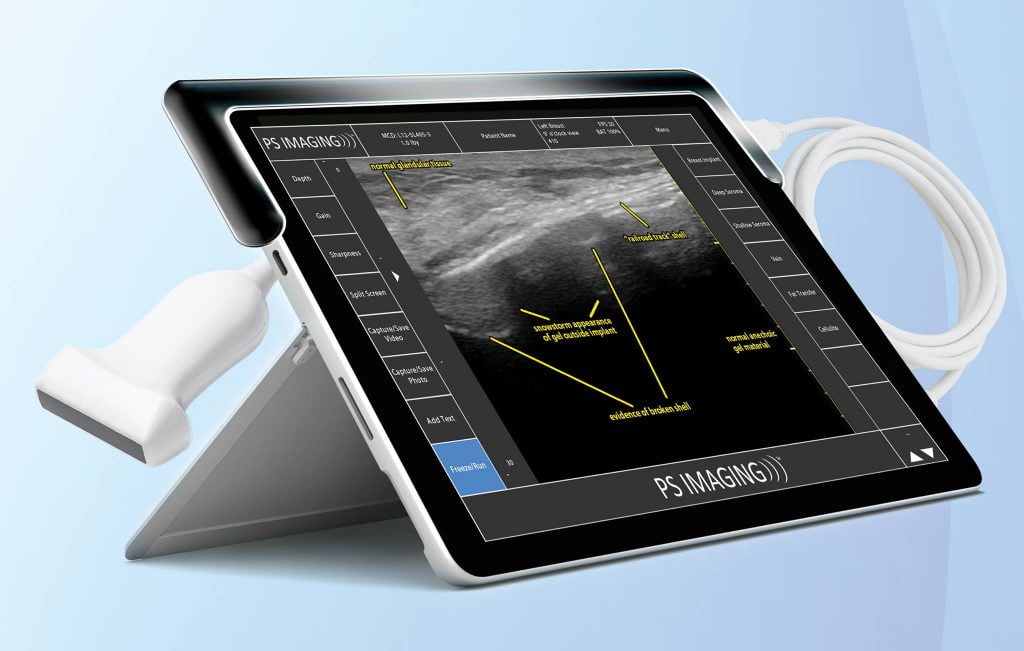 Schedule your breast implant ultrasound
Give us a call at (610) 320-0200 or contact us online to request your appointment. We'll be happy to get your breast ultrasound scheduled as soon as possible, whether you're overdue for an MRI screening, have immediate concerns, or simply want to establish a baseline.