Reading PA Venus Viva Skin Resurfacing
Dramatic skin improvements, safe for light & dark skin tones, little-to-no downtime—what's not to love about Venus Viva™?
We love lasers and what they can do for our patients' skin—but they're not for everyone! If you have darker skin or you can't take days of downtime to heal, for example, you likely fall under this category. But that doesn't mean you have to let visible skin damage, large pores, acne scars or other flaws stand between you and beautiful, smooth skin.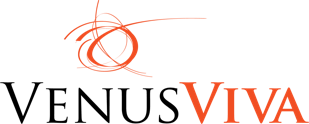 We're excited to offer our patients the Venus Viva™ treatment, a revolutionary new technology that delivers the improvements you'd expect with a skin laser but without the downtime or associated risks—and often at a lower cost!
What is the Venus Viva skin resurfacing treatment?
Venus Viva is a skin resurfacing treatment that removes damaged skin cells and activates new collagen production using NanoFractional Radio Frequency technology. Similar to a microneedling treatment, Venus Viva creates microscopic openings in the skin using a series of ultra-fine pins. These pins also deliver radiofrequency (RF) energy deep beneath the skin's surface, where it gently heats the skin to prompt collagen production.
Unlike traditional fractional lasers, the Venus Viva is "color blind"—it does not use light or laser energy and therefore can safely treat even dark skin types without risk of discoloration. Additionally, the Venus Viva pins go under the skin's surface to trigger skin remodeling from within while significantly less skin is removed from the outer layers. For you, this dramatically reduces downtime—most patients need no more than a day off—as well as provides a more comfortable treatment experience.
How can Venus Viva help my skin look better?
The Venus Viva can be an excellent, affordable treatment option for anyone who would like to improve their complexion and reduce signs of aging, visible skin damage, and skin flaws with very little downtime, including:
Acne scars
Surgical scars
Stretch marks
Large pores
Fine lines & wrinkles
Hyperpigmentation
Skin laxity
Texture problems
Watch The Doctors TV put Venus Viva to the test…
Your Venus Viva treatment at Berks Plastic Surgery
The average Venus Viva treatment takes 15 to 30 minutes to perform. No special prep is needed; you can arrive without makeup, or we will give you time to remove makeup. We will apply a topical anesthetic to maximize your comfort and then cleanse and dry your skin immediately before treatment.
Your provider will place the Venus Viva handheld device directly on your skin's surface in the treatment area, where the tiny pins will penetrate the skin and deliver the NanoFractional RF energy. You may feel brief "zings" on your skin, as well as a warm sensation, but most find this very tolerable. Following your treatment, your skin will feel warm and appear pink, similar to a sunburn. Some mild swelling is also possible for a few hours.
Is there any downtime after Venus Viva treatment?
We ask that you don't wash your face or put anything on your skin for the first 24 hours after treatment. You need to keep the treated area completely dry during this time, so do not exercise or do anything that causes you to break a sweat.
You will also need to keep your skin protected from the sun for several weeks after treatment. It's best to stay indoors the first day, and then apply a broad-spectrum SPF 30 or higher to treated skin before going outdoors thereafter. If you follow these restrictions as well as your provider's full aftercare instructions, you can return immediately to indoor work as well as your normal daily routine.
When will I see results?
The sunburn-like appearance after Venus Viva may last up to three days. We will provide you with moisturizers and other aftercare skin products to use during this period to promote healing and minimize itching. After about one to three days, you will notice the treated skin gradually slough off; this can easily be hidden by makeup. Once this natural exfoliation process is complete, typically within one week, your skin should feel smoother and blemishes will appear less pronounced.
Results will continue to improve over several weeks after your Venus Viva treatment, as your skin builds new collagen and replaces damaged skin cells with healthy, unblemished skin cells.
How much does Venus Viva cost?
On average, each Venus Viva skin resurfacing treatments costs around $750. The exact cost of treatment will depend on your overall skincare treatment plan and goals, and we will provide you with an individualized price quote at your free cosmetic consultation.
How many Venus Viva treatments will I need?
The typical patient needs three to four treatments, spaced about a month apart, to achieve their desired results. The exact number you'll need will depend on the nature of your concerns and your goals. For example, you will probably need more Venus Viva treatments to treat severe acne scarring and fewer treatments to smooth fine lines.
Since your own skin is doing the bulk of the "remodeling work," your results will last a long time. However, the natural aging process will continue, so you may consider returning for maintenance treatments every 6 to 12 months after your initial series is complete.
Ready to learn more? Call us at 610-320-0200 or contact us today to request your free cosmetic consultation with our Berks Plastic Surgery skincare experts.