Clear + Brilliant® Laser Treatments

Get better looking skin now & prevent the effects of aging
Don't let unwanted signs of aging sneak up on you. Clear + Brilliant® improves your skin's overall appearance while helping fight off the effects of the aging process.
I love Clear and Brilliant! I started receiving compliments from people after only three treatments. My nail tech last week said my skin looks amazing!
What is Clear + Brilliant?
It's a new laser treatment that closes the gap between at-home skin care and more aggressive anti-aging treatments like ablative laser resurfacing or cosmetic surgery. It addresses unwanted signs of aging by renewing and refreshing skin from the inside out, encouraging new, healthy skin cell growth.
Here are a few reasons why we think you'll love Clear + Brilliant:
It's safe and clinically proven to work for men and women alike.
Treatment is comfortable and 100% non-invasive.
See results after your first treatment (which only take 30 minutes!).
There's no downtime to worry about.
Best of all, it's affordable!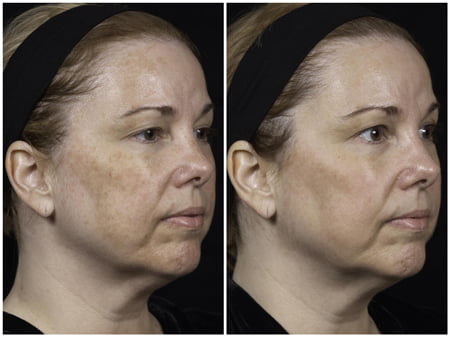 You'll get noticeable results that skincare products alone cannot achieve; in fact, Clear + Brilliant can help your skincare products work more effectively by allowing them to more thoroughly absorb into your skin. In return, your preventative skincare regimen gets a serious boost, so your skin keeps its youthful radiance even longer.
What can Clear + Brilliant do for you?
Clear + Brilliant is scientifically proven to produce a noticeable improvement in skin tone and texture while reducing pore visibility. We use it to help patients achieve an overall boost in their skin's appearance or to treat specific concerns:
Reduce redness & discoloration
Minimize visibile pores
Diminish age spots and freckles
Smooth and brighten skin around the eyes
How Clear + Brilliant makes your skin look better
Clear + Brilliant uses a gentle, yet powerful laser to renew your skin from the inside out. The laser energy diffuses underneath your skin to encourage fresh skin cell growth. After a few days, the damaged outer layers of skin exfoliate to allow a more radiant, healthier complexion to emerge.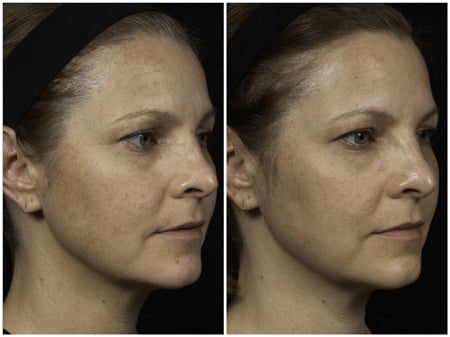 The entire session, which includes Clear + Brilliant laser treatment plus application of a post-laser antioxidant serum, takes only about 30 minutes. Many patients say their skin feels smoother and has a more radiant glow after the first treatment. Following a series of about 6 treatments, Clear + Brilliant achieves long-lasting improvements in skin tone, texture and clarity.
Clear + Brilliant is ideal for the in-between patient
Many laser resurfacing treatments are great at correcting specific signs of aging, but some can be too aggressive for those who mainly want to enhance overall radiance for a healthy "glow." Clear + Brilliant is the answer for many of these patients. It's especially great for patients in their 20s and 30s who know that the best way to get youthful, radiant skin is to be proactive about skin rejuvenation.
If you can identify with the following, then Clear + Brilliant may be perfect for you:
You're starting to notice signs of aging, but still think your skin looks pretty good.
You take good care of your skin, but wouldn't say "no" to a boost in tone & radiance.
You know you're not ready for more aggressive lasers or cosmetic surgery.
Learn more at a free consultation
Interested in learning more about Clear + Brilliant? We can give you all the details in a free consultation with our skincare professionals. At your appointment, you will receive a thorough skin evaluation and go over all of your skin rejuvenation options. Call us at 610.320.0200 or contact us online now to schedule.