BOTOX® for Men in Reading
Non-surgical anti-aging injectable treatment

What do you see when you look in the mirror? Have you noticed a few more lines around the eyes and brow than before? Wrinkles are a natural part of aging, and while a crinkle here or there can provide a distinguished appearance, expression-based wrinkles in the upper face can quickly lead to a heavy or haggard appearance.
BOTOX® Cosmetic has been growing in popularity for years for its ability to stop wrinkles in their tracks without the need for surgery. BOTOX injections are a great way to effectively reduce visible signs of aging in men who aren't quite ready for more invasive procedures.
How BOTOX works
BOTOX is a type A botulinum toxin that is delivered by injection. Unlike other products that are injected under the skin to "fill in" wrinkles and lines, BOTOX impacts the way your muscles work and treats the underlying cause. BOTOX works by interrupting the signal between nerves and muscles and temporarily immobilizing the muscles that contribute to expression-based wrinkles, particularly around the eyes and on the forehead. When injected with BOTOX, these wrinkles—which contribute to the appearance of crow's feet and brow creases—relax and allow the surrounding skin to smooth out.
Visit our Patient
Before & After Gallery
Model
Is BOTOX for men different?
We use the same safe and effective BOTOX solution for all of our patients, but the amount and technique used varies between men and women. Because aging effects women and men quite differently, our male patients often have different concerns and goals. Typically, men will begin to notice signs of aging on the brow; deep forehead creases are a top concern for many of our male patients. Additionally, fine lines from years spent in the sun, loss of volume and sagging skin in the mid-face, and the appearance of jowls around the jaw are typical areas of concern for men. Male patients also often require more units of BOTOX to receive comparable results. This is because men's facial muscles are bulkier than women's and require more product to treat an area.
Because of these factors, it's important to work with a BOTOX provider who has experience working with male patients and an advanced understanding of facial anatomy. This experience will ensure you will achieve great results without losing a masculine appearance.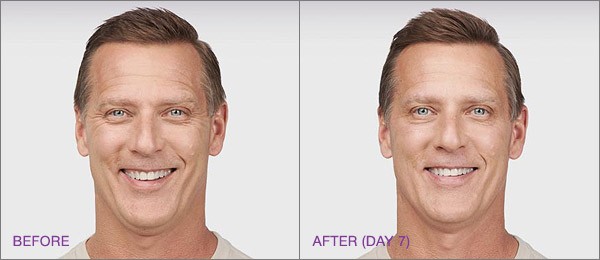 Your BOTOX treatment at Berks Plastic Surgery
The first step is consulting with a board certified plastic surgeon or licensed nurse injector. If BOTOX is recommended for you, you'll be pleased to know that injections are quick and comfortable. Your appointment will take just a few minutes, and you'll be able to resume most normal activity right away. Noticeable improvement and softening of your wrinkles will be visible within around one to three days, helping reduce a heavy or angry appearance and leaving your face younger and smoother looking.
Results last between three to six months, at which time we recommend you are treated again to avoid the reappearance of the frown lines and wrinkles. As an added bonus, results tend to be more dramatic and longer-lasting with each repeated treatment.
Who performs BOTOX injections?
Our lead nurse injector, Maria Fotis, RN, has over 30 years of experience in medical skin care and is thoroughly trained in cosmetic injections. She performs injections at Berks Plastic Surgery and our medical spas.
Ready to get started? If you're in the Reading area and curious about BOTOX for men, contact us! We'd love to work with you.