Freeze Me Skinny!
CoolSculpting® Fat Removal
What is CoolSculpting®?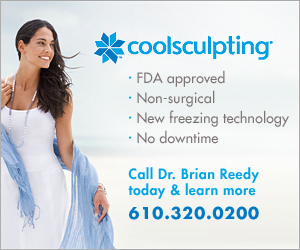 CoolSculpting® is an FDA cleared, non-surgical procedure to help you lose unwanted fat. We use a special machine to freeze your fatty tissue, and your body metabolizes the fat. You get rid of it naturally, eliminating it like water!
We are excited about this new technology. You can finally lose your stubborn fat – no surgery, no incisions, and no downtime. And best of all – no more muffin top!
Call Us Today for More Information – 610-320-0200
How does CoolSculpting® get rid of fat?
CoolSculpting® is a safe, effective, surgery-free way to eliminate annoying and ugly bulges that won't budge with diet or exercise. It works by isolating and literally freezing your fat cells to death.
What makes CoolSculpting® so incredibly cool is that it leaves all your other tissues – skin and muscle – healthy and untouched. Because there are no incisions or needles, you will not have any scars to hide, and you can get back to your normal routine right away.
What does CoolSculpting® feel like?
While you'll feel some pressure along with a cold sensation while the CoolSculpting® machine targets and freezes your unwanted fat, most patients spend their hour of fat loss reading, checking in on their laptop, or just relaxing.
How does the fat go away after CoolSculpting®?
Once CoolSculpting® kills fat cells, they are gone for good. Your body metabolizes the unwanted fat as waste. You will look and feel noticeably slimmer within weeks after your one-hour session. And you will continue to get skinnier over the next few months while your body gradually eliminates the last of the fat cells. The remaining tissues in the treated area will also firm up, leaving you toned and trim.
Are the results going to last?
As long as you keep up a healthy lifestyle, your CoolSculpting® results should last through the long term. Since the fat cells are dead and gone, you won't store excess fat in such a concentrated area anymore. You'll likely find that, with the stubborn fat finally removed, you are more motivated than ever to eat right and exercise to maintain your leaner figure.
Okay … Freeze Me Skinny! What's the next step?
The next step is to contact us! Call us at 610-320-0200 or use our online contact form.
Dr. Brian Reedy is a board certified plastic surgeon located just outside of Reading, PA. Dr. Reedy and his staff will tell you everything you need to know about CoolSculpting®.