Cellulaze Cellulite Reduction in Reading PA
A minimally invasive option for smooth, firm skin
Are you frustrated that you can't get rid of your cellulite no matter how hard you try? Here's a fact that may surprise you: Cellulite is actually caused by factors outside of your control. Many believe it's a fat problem that can be addressed through diet and exercise. But, fat isn't the only culprit. Cellulite is a structural problem below the skin. And while you may have tried every treatment possible, you've never had a way to treat the very structure of cellulite. Until now!
What is Cellulaze?
Introducing Cellulaze from Cynosure, the first FDA-approved treatment that attacks the structural problems beneath the skin that cause cellulite to provide proven, long-term results. A minimally invasive, laser-assisted procedure performed by a qualified physician, Cellulaze is a new anti-cellulite treatment clinically proven to increase your skin's natural thickness for a smoother, healthier look that lasts. All from just one simple anti-cellulite treatment.
Visit our Patient
Before & After Gallery
Model
One Simple Treatment for a Smoother Body
Aging, hormones, genetics and dramatic weight changes can all play a role in the appearance of cellulite. These factors can cause connective tissue bands under the skin to stiffen and the fat cells they surround to become larger and push up into the skin. This creates the "cottage cheese" effect, which is even easier to see if you have thin skin.
You can't control these factors, regardless of how many miles you run or salads you eat, but you can control how you treat cellulite. Many other anti-cellulite treatments focus on cellulite superficially, applying treatment above the skin. Only Cellulaze treats the fibrous bands beneath the skin, while also thickening and adding elasticity to the skin.
Cellulaze is performed under local anesthesia in our fully licensed, accredited, in-office operating suite.
Cellulaze Results
While many other cellulite treatments only work on the surface, Cellulaze addresses the underlying structure of your cellulite.
You should see results immediately after treatment, and they will improve over the course of three to twelve months. Some patients report that cellulite spots disappeared almost immediately after their treatment.
How long Do Cellulaze Results Last?
Long-term results lasting at least five years or more are possible as long as you maintain a healthy diet and exercise program. Because incision sites are tiny, scarring should be minimal. We will evaluate your skin type and offer suggestions on how to care for your skin to reduce the appearance of scars.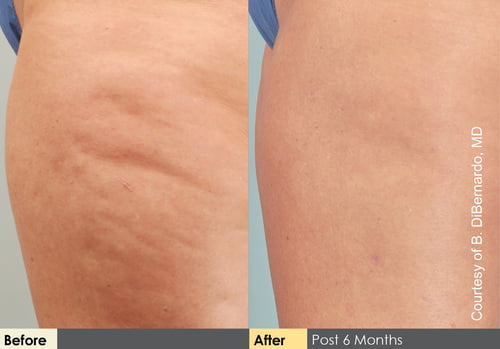 Recovery & Risks
Cellulaze is a minimally-invasive procedure. After treatment, you should be ready to return to your normal routine within 2 days. After 2 weeks, you can resume exercise. You'll experience some mild bruising and discomfort, and small amounts of fluid may leak from the incision sites.
You will need to wear a compression garment for approximately three weeks after your procedure to promote quick healing and optimal results. During follow-up appointments, we will evaluate the progression of your results. They will continue to improve for the next three to twelve months. As you recover, remember to follow all instructions provided by our surgeons, Dr. Reedy and Dr. Lindsay, and our staff.
During studies of Cellulaze, adverse effects included discomfort, bruising, swelling, and numbness. These effects were mild in severity and resolved within three months for all patients.
Because the incision sites are small, scars are barely noticeable after Cellulaze. We will educate you on proper care of the incisions for optimal scar prevention.
Cellulaze Cost
While the average cost of Cellulaze ranges from $5,000-$7,000, your individual cost will vary depending on the number of areas you have treated. During your consultation, we'll discuss the cost of your procedure and answer your questions about payment.